In this walkthrough, we demonstrate how to enable HTTPS to send SSL/TLS encrypted data to Splunk's HTTP Event Collector.
Enable HTTP Event Collector
Please follow these steps to enable and configure HTTP Event Collector.
Enable HTTPS
Open the Splunk web console
From the system bar, click Settings -> Data Inputs
On the left side of the page, click HTTP Event Collector
In the upper right corner, click Global Settings. The following dialog comes up: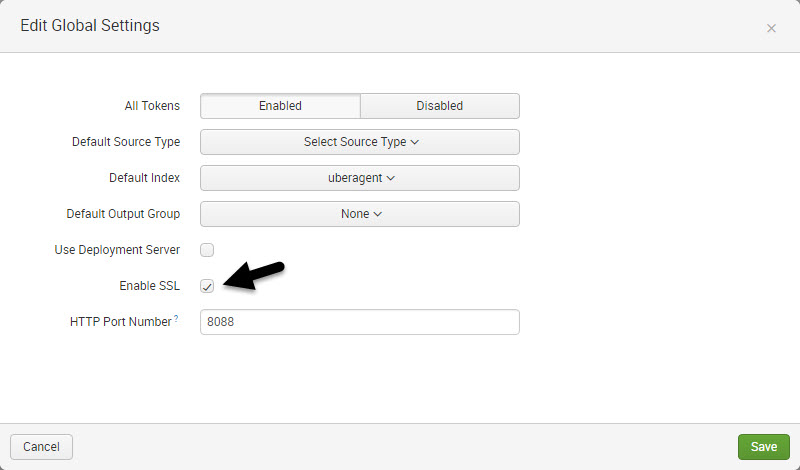 Click Enable SSL
Click Save
Request Your Server Certificate
Follow the Splunk documentation to request your own server certificate.
Install Your Server Certificate
After you received a valid server certificate you have to reconfigure the HTTP Event Collector on your designated Splunk server following these steps:
Navigate to the directory $SPLUNK_HOME\etc\apps\splunk_httpinput\local
Within the local directory add the following content to the inputs.conf in the [http] stanza:
[http]
enableSSL = 1
sslVersions = *,-ssl2
allowSslCompression = true
allowSslRenegotiation = true
caCertFile = <name of your .pem file>
caPath = <path to your certificate files, e.g. $SPLUNK_HOME\etc\auth\mycerts>
sslKeysfile = <name of your .key file>
sslKeysfilePassword = <private key password>
Restart the splunkd service